Meet Us
Let's Get There Together
Get in contact or meet us in person. Whether it's at an information session, webinar or during a one-on-one appointment, we want to get to know you better.
Upcoming Webinars
Navigating the Application Process Webinar: Join us as we provide you with all of the application and admission details that you will need to apply to our BLPT MBA program. You will have a chance to ask questions about admissions to BLPT.
Thursday, January 19 @ 7:00 PM (EST)
On-Campus Events
DeGroote MBA Open House
To start the new year, we will be hosting our traditional DeGroote MBA Open House and we are so excited to welcome you to the Ron Joyce Centre (RJC), the home to the DeGroote MBA in Burlington!
Saturday, January 14, 2023
10:30am – 1:00pm
Taking place during one of twenty-seven weekend residencies for BLPT MBA students, you'll experience the energy and support you can expect to receive as a student in the program. This is your opportunity to see our campus and learn about the programs offered, speak to current students, hear about our Career and Professional Development Team, and attend a guest lecture.
This event is always fun and informative. You as an attendee will have the opportunity to ask your questions to the students as well, so come prepared!
We look forward to showing you what DeGroote is all about.
Off-Campus Events
Check back soon for updates
Book a Phone Call Appointment
Let us know when you're available and we'll arrange a one-on-one phone call to discuss your options and answer your questions.
Connect with us by phone at: 905-525-9140 ext. 27024
Remember, we're here to help.
---
Where to Find Us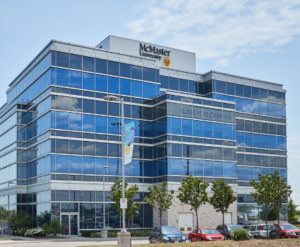 Ron Joyce Centre
4350 South Service Road
Burlington, ON
L7L 5R8
We are located at the Ron Joyce Centre in Burlington, ON (room 333). Take the elevator to the third floor, make a left turn around the corner and we are at the end of the hallway.
Our office hours are Monday-Friday, 8:30 a.m. to 4:30 p.m.